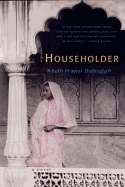 The Householder
by Ruth Prawer Jhabvala is bildungsroman fiction about a young, mediocre college teacher Prem, who is new to independence, marriage, job and a city life. He is a shy innocent, transitioning from a sheltered life into true adulthood where his decisions lead to consequences. Initially, he identifies himself as the son of a college Principal and he thinks he is entitled to the same respect his father was given. "Prem had sometimes envied him his position of comfort and dignity and had looked forward to being married himself so that he occupy a similar one." (p.38). It is his immaturity that he is not able connect respect with effort but thinks of it as an entitlement.
He is not sure how his wife Indu fit into his life, although she is even pregnant when the novel starts. He is not willing to share his thoughts or his love with her. In fact, he is irritated with her sighs and her quiet crying, totally unaware of his role in her unhappiness. When he is asked to bring his wife along for a tea party at the Principal's house, he is in a conundrum. "I hardly know her, he wanted to say; how can I bring someone I hardly know to such an important tea-party?" (p.35) His problem seems ridiculous even to him--"Yet it seemed a strange thing to say about one's own wife, especially after he had already confessed to Sohan Lal that Indu was pregnant." Besides being embarrassed about his status as a young householder-- Grihasthashrama, the householder, is the second major phase in a Hindu's life-- he is conscious of a heavy feeling of responsibility, the burden of a breadwinner. A short but humbling search for a better paying job makes him realize that his present employment is doubly precious given his inadequate qualifications. He then decides to ask for a raise but each time he attempts to talk to the Principal a comic turn of events prevents him from doing so. In fact, whenever he tries to assert himself, in any relationship, he finds he is being laughed at. His wife leaves him when he demands she take care of his widowed mother. His friend Raj practically ignores him. His mother interferes in his life, and he even has problems with his colleague, Mr. Chaddha which threaten his career. However, he finds strength to move on. He attends prayer meetings where a Swamiji teaches him to accept the downs of life with the ups. Unlike Hans Loewe, for whom the Indian mystique is elusive, Prem instinctively understands it as he matures. He surrenders to the will of God and immerses himself in the role of the householder without actively seeking solutions. Intimacy between husband and wife deepens, and a new man emerges who can forget for a while the Khannas and the Seigals of the world who prey on innocent victims like him.
Writing with a lively sense of humor, Jhabvala makes the everyday landscape specially poignant. The readers laugh at Prem when he handles his life clumsily but sympathize with him when he has a tough time picking himself up. They cheer for him because he has just started out in life, is extremely conscientious and he deserves every opportunity to prove himself.
Jhabvala, Ruth. The Householder. W.W. Norton & Company. New York. 1985. Print
Update 10/27/2013: Please read this chapter from Nagendra Kumar Singh's book, Society and Self in the novels of R.P. Jhabvala and Kamala Markandaya.